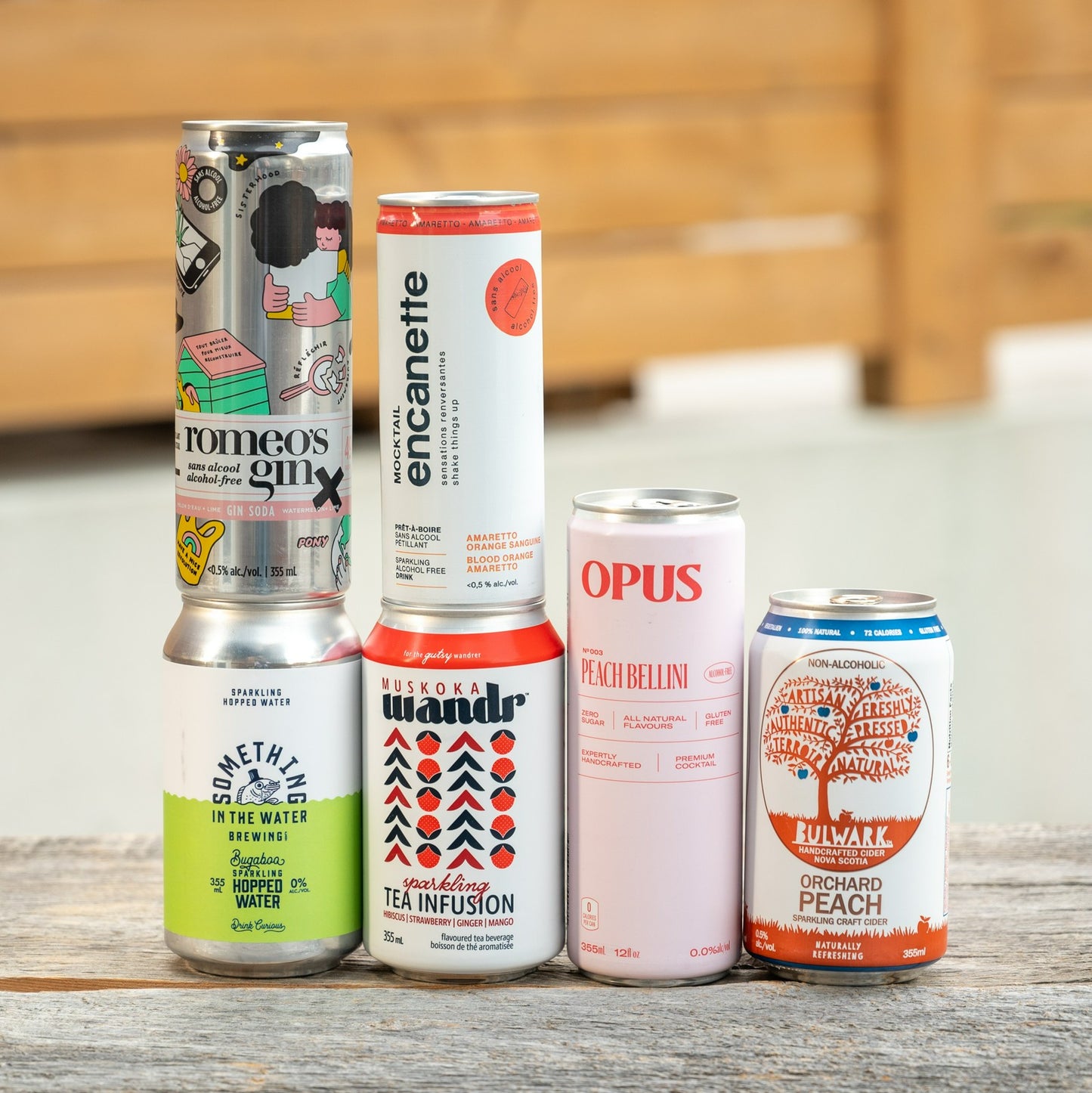 Introducing the ultimate summer drink: Peach Bellini Alcohol-Free from Drink Opus! This refreshing and bubbly beverage is bursting with juicy peach flavor and a hint of sweetness. Sip on it poolside or enjoy it as a mocktail at your next brunch - either way, you won't be disappointed!
Gin x Soda Non-Alcoholic by Romeo's Gin is the perfect addition to an active social life. This ready-to-drink cocktail has a unique and lightly fruity taste that is perfect for those who want to enjoy the flavor of gin without the alcohol. With its low calorie count and delicious taste, it's a guilt-free way to enjoy a refreshing drink.
Encanette's Amaretto Orange Sanguine is a refreshing and flavorful mocktail that is perfect for any occasion. Its tropical notes of rum and coconut pair perfectly with the tangy taste of blood orange, creating a delightful burst of flavor that is sure to please. Made with natural flavors and vegan and gluten-free ingredients, Amaretto Orange Sanguine is a guilt-free indulgence that is perfect on its own or with a meal.
Muskoka Wandr Sparkling Tea Infusion Gutsy>
Looking for a refreshing and bold beverage? Check out Wandr's Sparkling Tea Infusion in Gutsy! This carbonated tea infusion has a unique and delicious flavor that is perfect for sipping on a hot summer day or anytime you need a pick-me-up. With its natural ingredients and low sugar content, Gutsy is the perfect guilt-free indulgence.
Something In The Water Bugaboo Sparkling Hopped Water>
Bugaboo Sparkling Hopped Water is a refreshing and flavorful beverage that is perfect for those who want to enjoy a delicious drink without the guilt. With no alcohol, no carbs, and zero calories, it is gluten-free and keto-friendly, making it a great option for those with dietary restrictions. Its lemon-forward taste and unique blend of hops make it a curiously refreshing drink that is sure to satisfy. Try Bugaboo Sparkling Hopped Water today and experience the perfect balance of flavor and health.
Bulwark Orchard Peach Sparkling Non-Alcoholic Cider
Indulge in the sweet and refreshing taste of Bulwark Orchard Peach cider - the ultimate non-alcoholic beverage. With a delicate aroma that transports you to a summer paradise filled with tree-ripe peaches, this cider is a true delight for the senses. Its crisp and lightly sweet taste is further enhanced by the infusion of juicy fruit flavors, adding a bright and zesty note to the apple blend. Sip on this cider and experience the perfect balance of fruity goodness and thirst-quenching satisfaction.