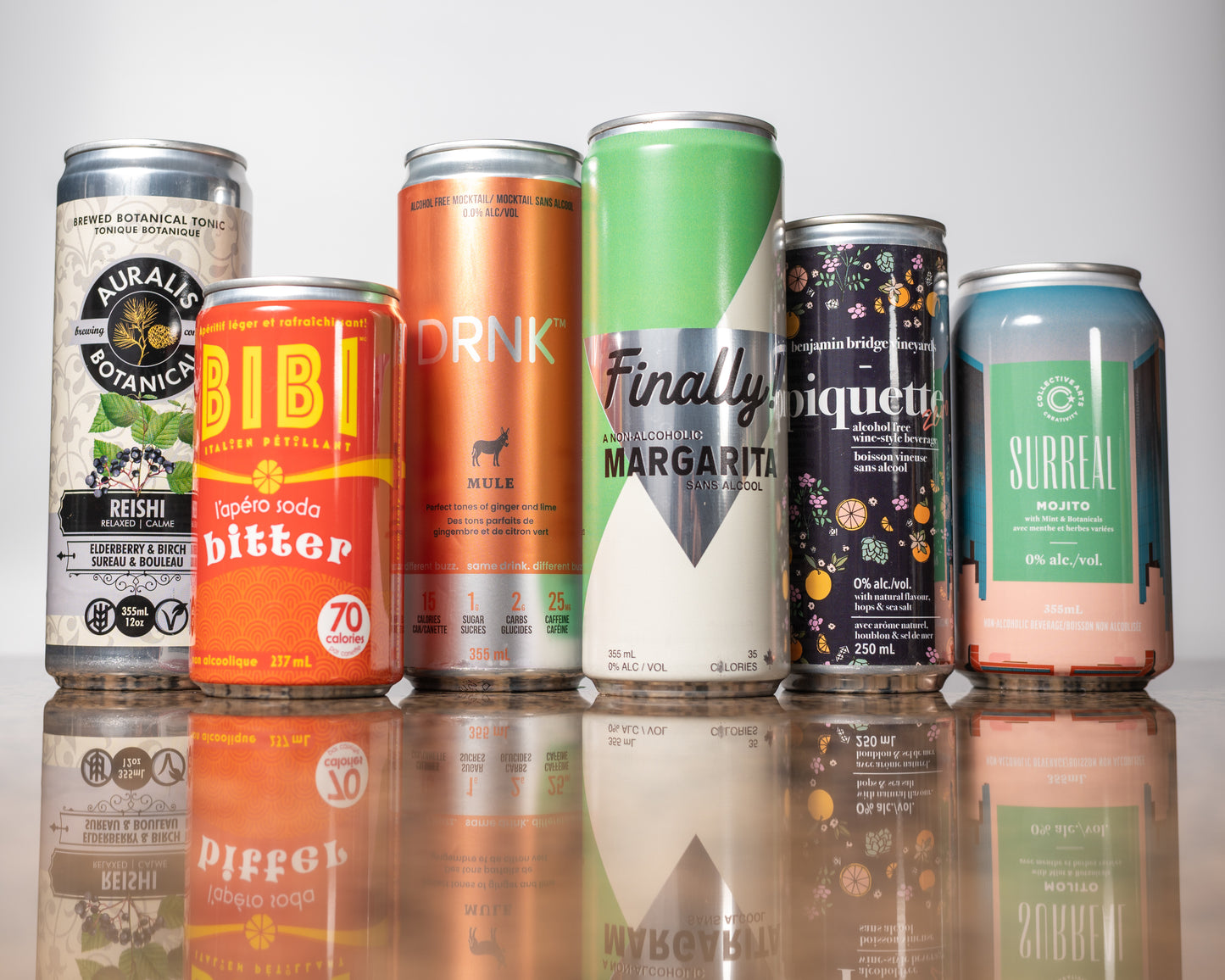 (left to right)
Auralis> Botanical Tonic with Reishi Mushroom, Elderberry & Birch
Born out of the desire to create a functional and unique non-alcoholic option, this Botanical Tonic delivers bright notes, and light carbonation. A beautiful pink hue, Auralis Brewing offers a ready-to-drink without sugar.
Bibi Sparkling Italian: Apertivo Soda
The classic soda bitters got a glow-up! Bibi has a welcoming light taste and a highlight of citrus. Non-alc drinkers can reunite with complex flavour in this Discovery Box champion.
DRNK> Mule 
Are you ready for a kick of flavour? Bringing the can of ginger and lime is DRNK's Mule - but this non-alc option is naturally sweetened. Coming from BC and ready to be served on ice.
Finally!> Margarita
That sweet and sour mix is eternally craveable and this Margarita doesnt require all the hoopla of mixing. Prince Edward County's Finally! Is on a mission to create the best tasting non-alcoholic options of classic cocktails.
Benjamin Bridge> Piquette Zero
In a class all it's own, Benjamin Bridge vineyard calls this a wine-style beverage. From the Annapolis wine region in Nova Scotia, Piquette Zero offers an aromatic experience that hints at bergamot, and preserved lemons.
Collective Arts> Surreal Mojito
Hamilton born Collective Arts Surreal Mojito redefines the perfect match of lime and mint. Bubbly and delicious, this is a great non-alc to bring along to your next night out.