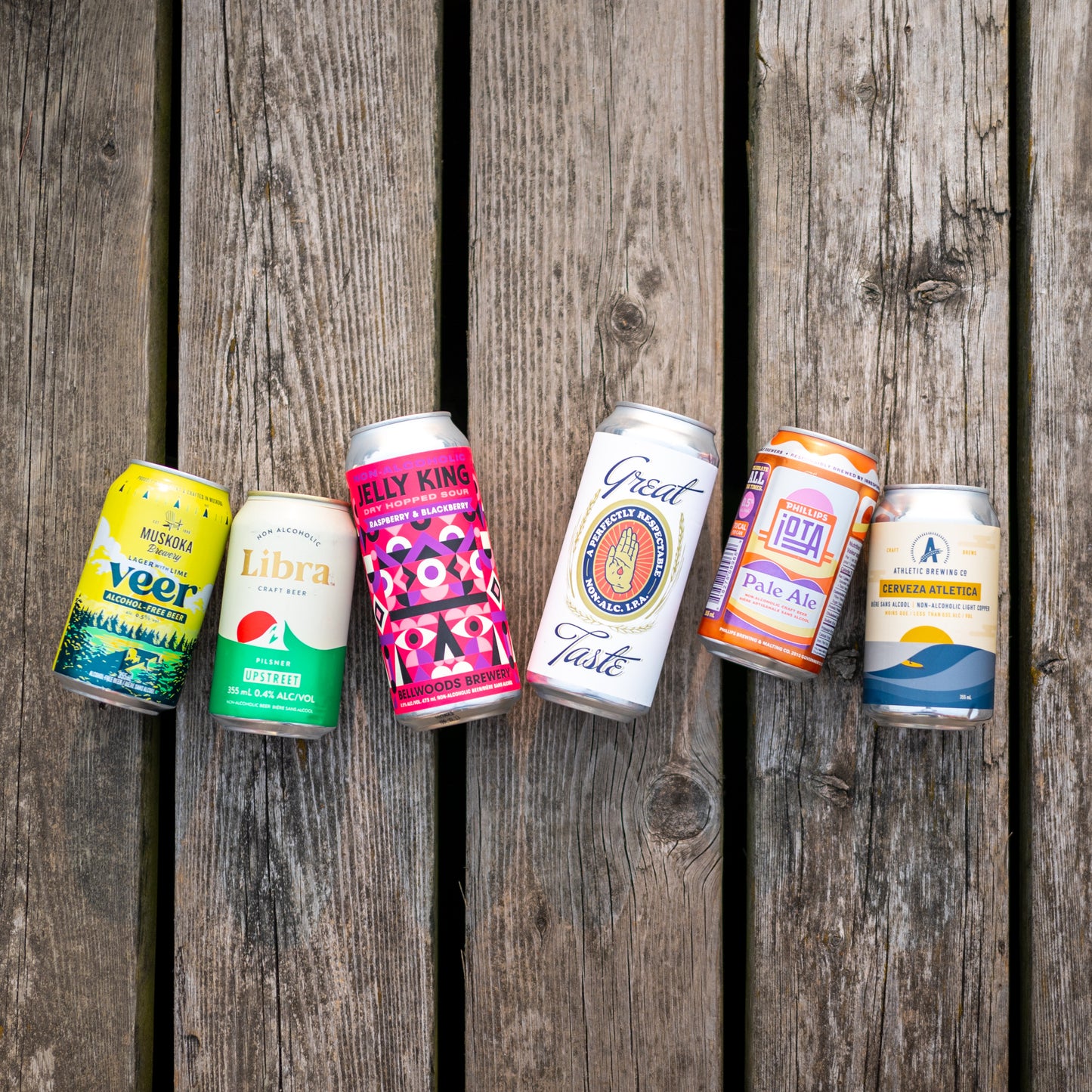 Muskoka Brewery Veer Alcohol-Free Beer - Lager with Lime:
Enjoy the crisp, refreshing taste of Veer Alcohol-Free Beer - Lager with Lime, brought to you by Muskoka Brewery. Pour it into a glass to see a bright white head build atop a pale straw body. The sip has a light graininess with a pop of tart lime for a well-balanced and clean finish. With good carbonation, this light-bodied beer is easy to drink and provides a buzz-free experience.
0.5% ABV
Libra Pilsner
Introducing the ultimate thirst-quencher - Libra Pilsner! This crisp and refreshing beer is the perfect accompaniment to any occasion. Whether you're kicking back after a long day or celebrating with friends, Libra Pilsner is the go-to choice for those who demand the best. With a light golden color and a subtle hoppy aroma, this beer is perfectly balanced with a smooth and clean finish. Every sip is a burst of flavor that will have you reaching for more. Made with only the finest ingredients and brewed to perfection.
0.4% ABV
Bellwoods Brewery Non-Alcoholic Jelly King Dry Hopped Sour w/ Raspberry & Blackberry
The Non-Alcoholic Jelly King Dry Hopped Sour w/ Raspberry & Blackberry from Bellwoods Brewery is a limited edition non-alcoholic beer. It is brewed with loads of raspberries and blackberries, resulting in a tart, fruity, and refreshing taste. Perfect for those who want to enjoy the taste of a sour beer without the alcohol, this beer is a must-try for any beer lover.
0.5% ABV
Blood Brothers Great Taste
Introducing the Great Taste 473 mL Tall Can from Blood Brothers Brewing. This non-alcoholic IPA is brewed with Citra & HBC-638 hops. With aromas of citrus and stone fruit, this easy-drinking brew has all the great taste of your favourite hoppy beer, but with less filling. It possesses a very low bitterness and lands with an exceptionally smooth finish. Whether you're taking a night off, changing your diet, or just want to enjoy a delicious beer without consequences, the Great Taste is a game-changer. 
0.5% ABV
iOTA Pale Ale
Indulge in the smooth and balanced flavours of iOTA Pale Ale. This light gold brew is the perfect addition to your active lifestyle. Crafted with the finest malt and hop profiles, this ale delivers a delicious blend of rounded honey and cereal notes, complemented by a straightforward mouthfeel and deliciously floral hops. With its harmonious balance between drinkability and flavour, iOTA Pale Ale is the perfect choice for those who want to enjoy a refreshing beer without compromising on taste. Whether you're relaxing after a long day or enjoying a weekend BBQ with friends, iOTA Pale Ale is the perfect beer for any occasion. Try it today and elevate your lifestyle.
0.5% ABV
Athletic Brewing Cerveza Atletica
Cerveza Atletica, the perfect Mexican-style non-alcoholic beer for summertime refreshment. This light copper lager is made with a unique blend of Vienna and Munich malts, providing a rich copper hue and delicate bread crust aroma. Balanced with light spicy and floral notes from the noble hop, German Hersbrucker, this refreshing beer has a dry finish that pairs perfectly with spicy salsa and fish tacos. Whether you're lounging by the pool or grilling with friends, Cerveza Atletica is the perfect choice for a refreshing and delicious non-alcoholic beer. Try it today and experience the taste of summer in every sip.
<0.5% ABV