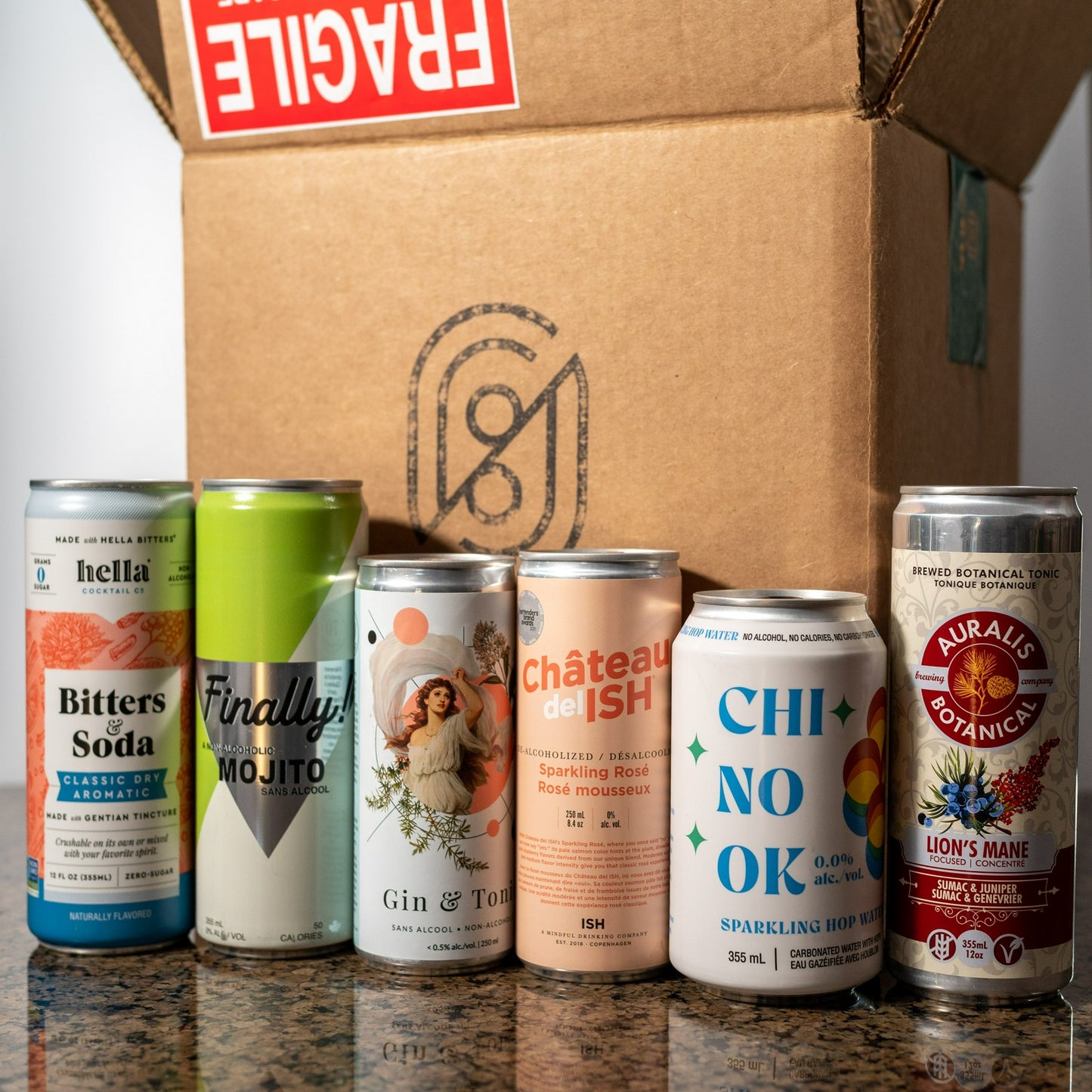 left to right
Hella> Bitters & Soda
Taking the health benefits of bitters and packing them into a low sugar and calorie can, this innovative blend is set to change the way you enjoy soda forever. Not only is it sugar-free, and just 10 calories per can, Featuring an aromatic flavour, Bitters & Soda offers a crisp, dry feeling in every sip.
Finally!> Mojito
This fine drink combines the refreshing zing of lime with a touch of mint, leaving an uplifting flavor that'll take you straight to a tropical beach. But don't worry, it's just bubbly and refreshing without any nasty ingredients that can make you feel guilty. Finally! a mocktail that delivers the profile of a classic mojito.
Statera> Gin & Tonic
The perfect drink for those who want all the flavor and complexity of a classic gin and tonic without the alcohol. Made in Quebec from natural ingredients, this handcrafted, non-alcoholic beverage is crafted using a blend of botanicals, including juniper, and citrus, which gives it a distinctive and complex flavor profile.
ISH >Chateau delISH Sparkling Rosé
A ready-to-drink bubbly and blush-worthy sparkling rosé with its delicate and refreshing flavor. You'll feel like you're sipping on sunshine while enjoying all the fun of a fancy, fizzy drink - minus the hangover. To add some sparkle to your day, ISH non-alcoholic sparkling rosé is the perfect choice.
Chinook >Sparkling Hop Water
With its crisp and refreshing taste, this bubbly beverage is the perfect alternative - the ultimate thirst-quencher for hop-heads who want to stay hydrated. Plus, with no alcohol or calories, you can enjoy all the flavor and aroma of hops without any of the guilt. A unique and satisfying flavour that takes a left from boring old water.
Auralis Botanical> Lion's Mane
A botanical tonic with lion's mane, the ultimate brain-boosting elixir. With its potent blend of natural ingredients and a generous serving of the mighty lion's mane mushroom, this tonic is sure to unleash your inner roar and give your brain the power it deserves.